TRACK SHOES FOR EXCAVATORS & BULLDOZERS FROM CHINA MANUFACTURER -Hot Rolled Steel Section For Track Shoe
---
SUPPLIES THE FOLLOWING TYPES OF TRACK SHOES:
Single grouser track shoes for bulldozers.
Double grouser track shoes for heavier machinery or loaders.
Triple grouser track shoes for excavators.
Track shoes for standard applications and extreme applications (ESS).
Special track shoes, which are made for specific applications. Examples of this are curved track shoes, asymmetric track shoes, and the oblique or flat track shoes.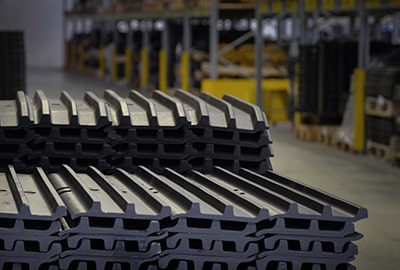 HOW CAN YOU RECOGNISE THE WEAR PATTERNS OF TRACK SHOES?
An excavator's track shoes need to be replaced when the bolt heads are at the same height as the track shoe grousers. The bolt heads are never intended to bear the machine. The bolts wear along with the shoes until the track shoes break or crack due to overloading. For bulldozers, the rule of thumb is bolt head height, times three. The track shoe grousers should grip into the soil to move the machine. The lower the grousers, the smaller the load that can be moved. Also, loose track shoes, often with worn-out holes, are ready for replacement.
Chemical composition of track shoe
| | | | | | | | | | |
| --- | --- | --- | --- | --- | --- | --- | --- | --- | --- |
| | C | Si | Mn | P | S | Cr | B | Ti | Als |
| 23MnBM | 0.20 ~ 0.27 | 0.15 〜0.30 | 0. 80 〜1.10 | ≤0. 030 | ≤0. 030 | 0.10 ~ 0.30 | 0. 0005 〜0. 0030 | 0. 010 〜0. 050 | 0. 01 〜0. 07 |
| 25MnB | 0.23 ~ 0.28 | 0. 15 〜0. 30 | 1. 00 〜1. 30 | ≤0. 030 | ≤0. 030 | 0.10 ~ 0.30 | 0. 0005 〜0. 0030 | 0. 010 〜0. 065 | 0. 01 〜0. 06 |
| 30MnTiB | 0.27 ~ 0.34 | 0. 17 〜0.37 | 1.20 ~ 1.50 | ≤0. 030 | ≤0. 030 | ≤0. 30 | 0. 0005 〜0. 0030 | 0. 020 〜0. 060 | 0. 01 〜0. 07 |
| 35MnTiB | 0. 32 〜0.39 | 0.17 ~ 0.37 | 0. 90 〜L 30 | ≤0. 030 | ≤0. 030 | ≤0. 30 | 0.0005 〜0.0030 | 0. 020 〜0.060 | 0. 01 〜0. 07 |
| 40SiMn2 | 0. 37 〜0.44 | 0. 60 〜].00 | 1. 40 ~ 1. 80 | ≤0. 030 | ≤0. 030 | ≤0. 30 | — | — | 0. 01 〜0. 07 |
Straightness
Curvature per meter
Curvature within 1m from both ends
Total curvature
≤4
≤6
≤0.4%L
Note : L is the total length of section steel. Unit is mm